"Madam, I've removed all the marks on the photograph."
Beaming, he smiled up at me, in all his 20-something eagerness, conscious of having done the best possible thing for a client.
Rummaging through my handbag for change, I stopped and looked him in the eye, then glanced over at the computer screen which displayed my bulging cheeks and a look that could kill antelopes in the wild.
***
An hour earlier
'The bank is sending someone over for signatures on that document.' V's voice registered through the fog of things to do on my mental checklist and I nodded, while trying to figure out if I'd already added sugar to the tea.
'They'll need a passport photograph.'
'Ugh, no. Please. Can't they just use some profile picture of mine from Facebook? I've got 83 there, last time I checked. I'm sure that will be just fine.'
That's what I wanted to say. Instead, I groaned, rolled my eyes and grabbed my keys. I simply detest getting my passport picture taken. But sometimes, we have to do things we dislike if we are to grow. Whoever said that was certainly never content in life.
***
Finding a studio open at 5 in the evening was proving rather difficult and after riding around for 20 minutes I chanced upon a tiny shop on a crowded street corner. Dodging cars on one side and irate shopkeepers on another, I parked the scooter and removed my helmet. One glance at the mirror made me grimace. Great! Now I'd have to go in for a facial just to get the grime off my face.
Walking into the shop, I quickly asked the chap behind the counter how long it would take to get my photo clicked and printed.
'Five minutes, madam.'
When I raised an eyebrow he hastily amended it with, 'Sorry, ten minutes?'
Heading into the back room I began to brush my hair. While in the middle of dabbing extra powder on the tip of my earlobe, studio chap walked in, caught sight of me and hurriedly excused himself. I finished up, patted a few errant strands into place and called out to him.
Pointing to a rickety chair in the centre of a floodlit space, he said I could sit there.  I immediately glanced at the mirror, framing a smile which looked as hideous as a goblin's grin. Alarmed, studio chap (who shall henceforth be known as SC), asked me if I was all right.
Rearranging my face, I stared blankly ahead. SC coughed and asked if I could look into the camera. Shifting my gaze, I peered into the lens and felt the back of my eyelids flutter unnecessarily. Dammit! This wasn't supposed to happen!
'Madam, relax, please. Photo won't look good.'
As tempting as it was to point out that nobody looks good in their passport photograph, I merely nodded. Asking me to smile, he snapped a picture.
Looking at the playback, SC winced visibly, 'One more time, madam. Too much teeth.' The grammarian in me wanted to say 'too many teeth' but I doubt that would have gone down well with him.
After what seemed like eternity the photo was finally clicked.
SC promised, 'Five minutes madam. Will print the photos.'
As he busied himself behind his system, tweaking the dimensions of the photograph, my eyes strayed over the various photos displayed on the walls of the  studio. Everyone and their uncle seemed to have visited this place. There were bigwigs from the film industry as well as normal families with their entire brood in tow. One wondered how most of them fit into that square inch of space where I'd just been.
Sighing, I turned to pay for the photographs.
***
"Madam, I've removed all the marks on the photograph."
'What?'
'Your face, madam. I removed all the black marks. The photo looks clean now.'
Staring back at me from the screen was my own face, but minus the five moles on the right side. I've been fairly lucky in the acne department and rarely get any unless the heat is severe; that and the minimal freckles on my forehead were wiped clean as well.
For a few seconds I continued to stare and wondered what to say. SC guy suddenly got nervous, 'Madam, is it for visa interview? I'll put the marks back.' Because as you know, a visa photograph shouldn't lie.
I pondered at broaching the subject with the chap. Of telling him that it didn't matter and that I was fine with my blemishes. Of saying I have larger black marks that covered both my forearms and the nape of my neck, thanks to a skin condition. Of affirming that I was comfortable with my skin, moles and all.
And then I realised: he wasn't to blame. He was merely doing what he'd probably been asked to do before by other female clients:
'Please remove the blisters on my face.'
'Can you change the exposure of the photograph?'
'Can you make me look fairer?'
And I couldn't bring myself to reason out any of these things with a man who was barely more than a boy. It wasn't his fault.
It was a culture that was primarily focused on blemish-free skin and believed implicitly in the idea that fair is more beautiful. How could I hold him accountable?
So I didn't. I merely told him it didn't matter and to print the photographs.
What really is the perfect photograph? It seems difficult to answer that in the age of selfies, Instagram filters and smartphone cameras that make us look way better than what the mirror shows us every morning.
Perhaps there is no answer.
In any event, I showed my daughter the picture and asked her what she thought. Her reaction reassured me that there will never be a perfect passport photograph.
She peered at it and asked, 'Amma, why do you look so scary?'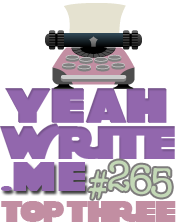 Honoured to have this piece featured as
Editor's Pick over at WordPress Discover!