I would never know.
Quick.
Silent.
They promised.
A chilly breeze whistled eerily
Raising the tiny hairs on the nape of my neck.
Cold steel touched my skin;
I waited for it to sink in.
My breath dripped sweat.
My captors cackled .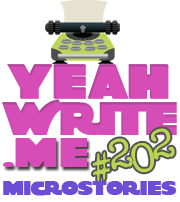 *I didn't manage to answer the question right this week. But, do check out the ones who did over at Yeah Write.
This week's Question: Who turned out the light?