So, does God exist?
Don't worry, I am not actually asking you that. I am merely quoting my eight-year-old who chose to pose this to me the moment she got off the school bus on Friday afternoon. To be honest, it threw me off balance and I am ashamed to say I chuckled at the question. Not because I found the question funny but the fact that an 8 year old would be asking me this never crossed my mind.
Once balance had been restored to my rattled state, I responded with, "What do you think?"
Yes, you see, I believe in the new parenting practice of answering a question with a question, because, clearly that doesn't annoy anyone, especially kids. Her grumpy face creased further into a frown and she said, "I am not sure. Dev told me that he does not exist and said I am stupid for thinking he does."
Now, my amusement turned to thoughtful contemplation and I looked her in the eye. In a soft voice, I asked her, "The question is, darling, what do you want to believe? That he exists or that somebody else says that he does not?"
She crossed her arms over her chest, her frown dissipating and responded, "I would like to think it over."
Delight overcame everything else and I hugged her tight, the matter shelved for the moment.
We are all walking that tightrope between faith and disbelief, aren't we? I am not talking about God's existence or the lack of the same, but our belief systems in general, be they emotional, social or psychological. We rarely give the other person the benefit of the doubt and choose to label them as 'stupid' or 'unwilling to see my point of view' if their views contravene ours at a given juncture.
I think it has to do with the validation principle, most visibly so on social media forums, I notice. A person posts an update, a blog post, a tweet declaring an ideology. What are they actually looking for? Do they want others to validate their point of view or respectfully oppose the same? I sense that the latter is not taken too kindly. We are such creatures of social acceptance that we do not want people to disagree with us. Doing so would mean that there is a possibility that we are wrong. And that is anathema to our comfortable shells of existence.
Working on this has done a lot for me this past year, both as a writer and as a person. If I pose a question, I lay myself open to criticism and opposition. That's where healthy debates lie. That is the foundation for growth. That is the nub of the spiritual path I have carved out for myself.
It would have been infinitely easier for me to have answered my daughter with a simple, 'Yes' or 'No' to a seemingly innocuous question at this age. But, by doing that, I'd be negating her need to question, her ability to see things from another's perspective and most crucially, her desire to explore her own path.
If experience has taught me anything, it is that in questioning the comfortable truths lies our true salvation.
 ~~~
This post won third place in the crowd voting at Yeah Write! Thank you everyone!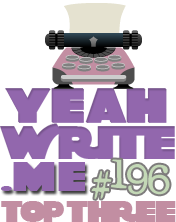 It was also picked up by Blog Adda to be featured in their Tangy Tuesday Picks! 
Thank you, Blog Adda!