Zara couldn't have known that the man upstairs was doing anything different.
She heard the same sounds that she'd heard for four months. Her droopy, canine ears couldn't tell her mistress' fearful screams from her shrieks of ecstasy.
He'd counted on that.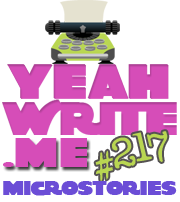 This post bagged second place in the votes on the Yeah Write #217 grid. Yay!