100th Post on this blog! Woo Hoo! I could not have seen this coming when I began this blog 4 months ago 🙂
So, what better way to celebrate than by giving credit to the many blogs out there that have helped me reach this milestone? 🙂
If you're writing fiction – of any kind- and you are just dipping your toes in this proverbial pool, then it makes sense to find something to write about. Most of us have ideas and we start off strong. Quite unexpectedly, though, we run out of steam and realise that we could use some help. That's where writing prompts come in handy.
Here are some great sites for you to subscribe to, in order to keep those blogging wheels turning.
My tryst with fiction (flash fiction) started in December 2013 when I stumbled upon the Yeah Write Speakeasy.
My first flash fiction post written for them was picked up for an award on another publication and I can say that is what fueled me to start this blog too 😀
Their prompts are truly fascinating and give you enough scope to thresh out the ideas churning in your mind. Don't believe me? Just hop over to the site and check out some of the seasoned writers there. They have a weekly prompt which goes live on Sundays. You have time till Tuesday to fashion your writing piece . Just remember to keep it under 750 words.
*Note: There are some changes brewing on the site, but the prompts will remain.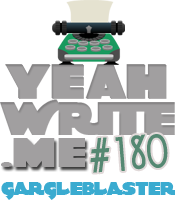 Are you a fan of microfiction? If yes, then there's something for you at Yeah Write too! This really entertaining weekly prompt is called the Gargleblaster and entries in response to the prompt must be in 42 words! EXACTLY 42! Sounds tough? It may be, at first. But trust me, the way you get to tighten your writing, work on those unnecessary words, choose the ones you use with care is all part of working on your skills. Give it a go. Good fun, I promise 🙂 The prompt goes up on Sunday and submissions are open on Tuesday.
*Note: The Speakeasy and Gargleblaster grids are exclusive, meaning,
you cannot link up to other prompts/blog linkups/ sites while attempting these prompts.

Lillie Mc Ferrin's Five Sentence Fiction is one weekly prompt I eagerly await. It is really fascinating to see how many different spins people can put on a single picture and/or a single word. The fact that the restriction is five sentences does not seem to deter anyone! I have seen some incredible work by some gifted writers, thanks to this prompt. I think the prompt goes live on Saturday and the linkup stays open for a week.
Do you find writing an entire story in 100 words challenging? Fun? Both of the above? Whatever your answer, you cannot miss Rochelle's hugely popular Friday Fictioneers prompt. You only have to see the number of entries she enjoys to know that I am right 🙂 Her prompt goes live on Wednesdays and you have time till the following Tuesday to answer the prompt. Rochelle is also  sweet enough to visit every single person on the linkup. That is incredible blogging etiquette!
Light and Shade Challenge is another weekly prompt site that gives you not one but four possible prompts each week. The Monday prompt must be answered in under 500 words and the Friday prompt in 100 words. Unlike other sites though, the Friday linky  is only open for 3 days, so write fast or you'll miss out linking up your post 🙂
Write Tribe is a very close-knit community of bloggers who encourage each other with writing advice, blogging prompts, ways to blog daily and some very sane posts on Clear and Simple Writing 🙂 Write Tribe hosts a Wednesday prompt, a Saturday prompt (100 words on Saturday) and a 55 word prompt on the last Friday of every month. Currently, Write Tribe has the Pro Blogger Challenge, where committed writers will try to blog everyday , for as long as they can 🙂
You know Cinderella? And you also know about her midnight deadline? Right, so you'll appreciate Flash Friday then 😉 The prompt opens every Friday at 00:01 EDT and closes at 23:59 the same day! And here's the fun part. You answer the prompt right there on the Flash Friday blog, in the comments. You can, though, leave a link back to your Twitter handle/ Blog, so the judges contact you if you win that week.
Thain In Vain is hosting a 52-week Flash Fiction challenge in 2014.I stumbled across it rather late, but, there's still a few weeks left, so I hope most of you can still participate 🙂 Thain, maybe you should continue i t in 2015? 😉
Well, I am not going to end without a bit of self-promotion 😉 Thanks to the inspiration from all the sites above, I have started a Monthly Fiction Challenge, From 15 to 50,  on this blog. The Prompts go live on the 10th of each month and the linky stays open for a week. A group of anonymous judges then pick their top 5 posts and I feature them later that month in a post here on the blog 🙂 Do check it out, if so inclined.
Things to Remember
1. Subscribe to the sites that you find good/ entertaining. That way, you won't miss out on a prompt when it goes live. Label these as 'Blogging Prompts' and create a filter in your e-mail, so that they do not get lost in all the mail clutter.
2. Some sites like the Yeah write ones are open to voting. You may want to come back and vote for your favourite posts.
3. Visit other blogs on the Linkup. This is a great way to build your audience, gain followers and find some very good writers that you'd like to follow as well. It may not be possible to visit them all. Start off small , perhaps, by visiting at least 10 blogs from the list.
4. Make a calendar using Google Calendar to notify you when the prompts are live or when you need to write/ schedule a post. This will take care of one week of blogging. I heard that Co-Schedule works well for those on the paid version of WordPress.
4. Try and leave a comment on the posts that you visit. Hey, we all love comments. Enough said 😉
Note: To all those whose images I have used, I have linked back to your respective blogs.
Please let me know if you would like me to give further attribution. I will gladly comply.
~~~~~
Do you have any Favourite Flash Fiction/ Fiction writing/Poetry Prompts?
How do you keep track of them, apart from Google Calendar/ Co-Schedule?
Care to suggest some in the comments below? 🙂
~~~~~
I am a Write Tribe Pro Blogger– Trying to blog everyday for a year.
Today is Day 57
Also linking this to Day 28 of the Ultra Blog Challenge