Perfect rosebud lips and black irises almost made him forget himself.
Almost.
Snapping back to reality, he replied, "Nowhere else. There's just one."
Polished fingertips grazed his arm. "And it's mine?"
"My limited edition Star Wars lightsaber? Sure, take my kidney too."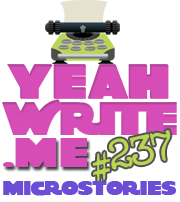 Third place in the votes! Thank you Yeah write!