Have you ever felt like you're pouring your heart out and people just aren't listening? Does it feel like the words come forth but they seem wasted in the way they float about in cyberspace without much 'value' or readership?
Up till about a week ago, I felt that. I would publish a post and sit back, waiting for people to say they loved it (hey, I'm human) or that it didn't really resonate with them (well, I was probably vague) or even that tantalising notification which said someone 'liked' the post by hovering over that Word Press button (yes, that's the icing on the cake).
But, something happened a while ago. Something unrelated to writing.
I was contacted by an agent offering me a job, based on some information I'd fed into a job portal. While this isn't new, what worried me was the excessive information he seemed to have about me, which he could not have gleaned from the portal alone. Later, I discovered that the account had been hacked (along with that of several thousand others) and that the portal was doing its best to avoid further unscrupulous activity. That did it for me, though. I went from being calm and content to paranoid and freaked out!
Immediately, I set about de-cluttering my Social media presence, especially removing people from my list whom I had hardly interacted with. Better safe than sorry was the motto I was going for. A lot of people took it in the right spirit. Some didn't. They stopped coming by my blog. That's fine. They probably felt offended. I mean, who wouldn't?
But, a couple of days later, I threw my shoulder out and had to stop all screen activity for a week. Post that, I have limped back to writing and blogging gradually. Now, I attempt a post a week for each of my blogs. It's just about all I can manage, given the pain.
How does this tie in with the real reason why we should write? I discovered something in this process.
Now, I am so grateful to be able to write at all, that I just sit back and am happy with the fact that I managed to type an entire post without pain.
I count comments/ likes/ shares as a genuine bonus, because I realise that people have lives. They cannot (and should not) be online 24/7, pandering to the needs of a blogger/writer who may or may not churn out the best posts.
Writing gives me a pleasurable high. I think it is the greatest dopamine booster in my system. The thrill I get after churning out a post is so palpable that I forget the pain that it took me to sit down and pen it all.
So, now I know. The real reason I should write is because it makes me joyous: Not the shares, the comments or the likes (although those are incredibly lovely). I should write because I can. I should write because it makes me feel happy to be alive.
The reason I must write is just that: To write for its own sake. Nothing more.
***
PIN THIS POST FOR LATER!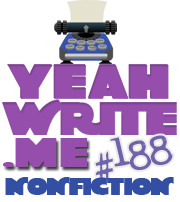 This post made it to the Top Row 3 on the Crowd Voting over at Yeah Write grid!
It is my first ever time at the top of the grid. Needless to say, I am on top of the world.
Such an incredible feeling. Thank you to all who voted.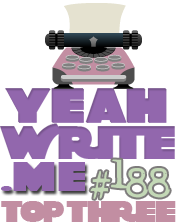 *Featured image courtesy: Shutterstock