As a blogger, it's been brought to my attention that community is a very important thing to cultivate in the world of writers. It's not so much an 'I-read-your-blog-and-you-read-mine' scenario as much as it is a way for us to connect with people whom we really enjoy reading for what they have to say.
It's not easy either. With the number of bloggers growing exponentially, almost by the day, keeping track of your favourite blogs can become a pretty demanding task. Writers are such suckers for feedback, as long as it is positive and praiseworthy. But where would we be without them?
Take my husband, for instance. The guy is really all I can ask for in a significant other- he whips up a mean Thai fried rice, plays mind-numbing games with the kid endlessly, talks about everything under the sun with her and keeps us happy. There's one thing he does not do, however. He doesn't praise my writing readily.
I'd written a fairly funny piece on the blog (well, everyone said so!) on the number of friends I have on Facebook and was delighted with the way readers gushed over it in the comments. Preening with the pride that could put a peacock to shame, I thrust my Tablet under his nose and said, 'Read this. I think you'll enjoy it.' A couple of chuckles and a grin later, he handed it back with the non-commital, 'It's okay!'
That's when I saw red. 'Just okay?' I asked in a tone that implied doom. Quickly, he looked at me and said, 'Oh! YOU wrote it? Why didn't you say so? It was awesome.'
I'd have believed him if he wasn't grinning and holding a cushion up to ward off my death stare. Bloggers, on the other hand, are extremely nice people. They will praise you, your writing and even convince you that the tripe you write is actually palatable for public consumption. Lesson learnt. Why go to my real family for false support when you wonderful people are here for me?
You know how it is, though. Writers are equally stubborn and keep banging their heads against the same brick wall, even though doing so can break the skull wide open. Determined to get a word of praise out of him, I casually mentioned this morning that my post on Depression had touched a chord with so many people that it had been shared over 300 times on Facebook alone!
With bated breath I waited for the inevitable compliment, the words that would say that I had finally arrived and that the world is now my oyster.
He shrugged, raised half an eyebrow and replied, 'Katy Perry gets a million shares in a day.'
I think I am officially done asking for feedback from that quarter. Bloggers, I'm all yours.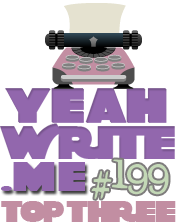 This post won the third place in the Crowd Voting over at Yeah Write. Thank you all!